A Post by Amy Tepper and Patrick Flynn
We were sitting in Patrick's living room the other day attempting to write, but found ourselves distracted by the geese in the backyard. We caught ourselves saying out loud, "welcome back" when we noticed new additions had arrived.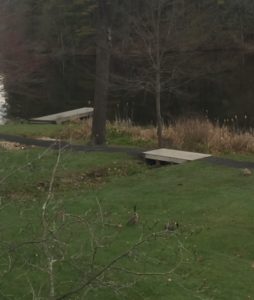 Two of the geese have spent the last few weeks of winter in this spot (probably feeling as irate as we have been about snow in April), but now several others have joined.
As Amy has lived in Florida for 20 years, and as all good writers do when faced with a deadline, we decided to read more about Canadian geese migration patterns.
So, did you know the first two are the scouts? They determine the best spots (Patrick's yard, of course) and guide the others.
You may have heard the many connections between leadership principles and the behavior of geese, but this view out the window resonated so much after Patrick spent the day and presented at the CT E2LEAD 2018 Conference at Mohegan Sun organized by CT's Teacher of the Year Council. So, we gathered a few ideas about what instructional leaders can learn from our flying friends:
They rotate. When one in front grows tired, another takes the lead.
Successful administrative teams share the responsibilities, leverage other resources such as instructional coaches or curriculum specialists, and foster teacher leadership to add layers of feedback and support for a school.
They honk. This distinguishable sound wakes many of us, but this is either encouragement and/or communication among the birds.
It is critical for our teachers to have a clear idea of where they are going and how they are going and for leaders to confirm effective practices – and the greatest avenue to achieve this is through high quality feedback.
They fly together. The always impressive V-pattern creates efficiency and ensures that they reach the destination together.
This reminds us that we are stronger together. How are you creating common understandings and building teacher capacity to support each other?
This spring, consider what you need as a leader to take flight with your teachers and staff.
And…
Remember, the early bird catches the worm.

Address issues like water rolling off a duck's back.

Make your impact your swan song.

Don't let yourself become a lame duck.
Okay, we'll stop.