In our last blog, we explored "Two Truths and a Lie" hoping to break the ice of educator evaluation. Now that we have broken the ice, we challenge you to a game of truth or dare, with a bit of a spin on the rules…to take the dare, the truth must be uncovered first.
The Truth
In our last blog, we discussed the fact that the hard truth is that over a decade of implementation of Race to the Top evaluation models has left us with limited results–and not the results we were aiming to achieve. Education is at the precipice of meaningful change with the opportunity to "Rethink Evaluation." Loosened restrictions on states have created fresh opportunities to finally shift the role and perception of observation and feedback to cultivate a culture of learning in our districts and schools–moving far and fast from the accountability-driven models still employed in many states.
The Dare
The call to action in our last blog was for policy makers and districts to follow the research on performance management from the last decade of implementation as they seek to make changes. We need to create systems based on supporting adult learning through feedback rather than to rebuild structures of inauthentic accountability.
With an eye on the possibility of real systemic change, we now dare districts to make real change by committing to our three recommended shifts for redesign:

Shift 1: Utilize multiple observation methods and feedback types.
Cultivating a culture of learning begins with a deeper understanding of observation methodology and the integration of these into an ongoing system of professional learning and growth.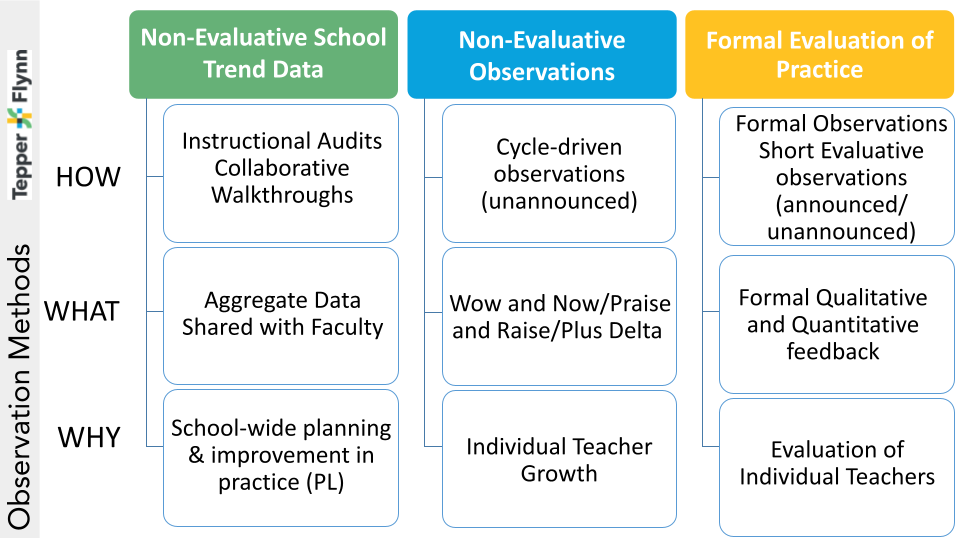 Figure 1 provides an overview of observation methods often misrepresented by policymakers and almost completely misunderstood by practitioners. Defining a structure for schools and school districts as they consider systems for applying non-evaluative and evaluative measures to support adult learning is essential. Leveraging a balanced approach of all three methods can support shifts in perception while ensuring real impacts in teaching and learning.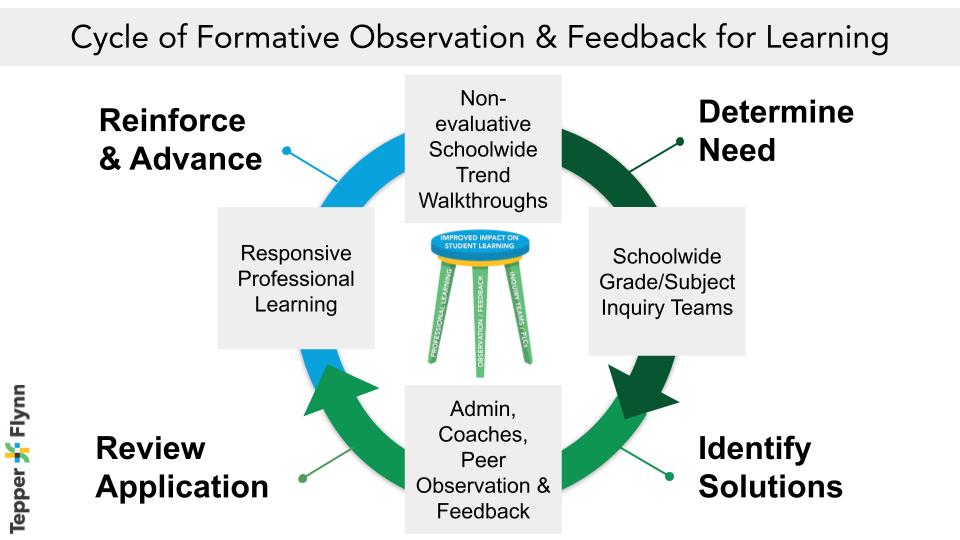 Shift 2: Design cycles that include ongoing observation data collection/analysis and formative feedback from multiple inputs.
Applying evaluative measures within the context of a cycle of improvement (Figure 2) supports both certified and non-certified staff's understanding of their current practice, shifts the focus from accountability to learning and growth for individuals, cultivates collective efficacy, and allows educators to measure impact of the ongoing feedback and professional learning. The best designs for learning in our classrooms are driven by performance assessment cycles that include both formative (non-graded) assessment with feedback and routine measured application of summative learning (or summative assessment). If this sounds familiar to us as educators, it should. The core question we continue to pose in schools is "if an assessment process that includes ongoing formative feedback towards intended goals is best learning practice in our classrooms, why does it not serve to support teacher growth in their own goal setting and improvement?"
Shift 3: Provide prerequisite and responsive training of all observers–supervisors of leaders, leaders, coaches, and teachers–and make feedback an all-hands-on-deck approach.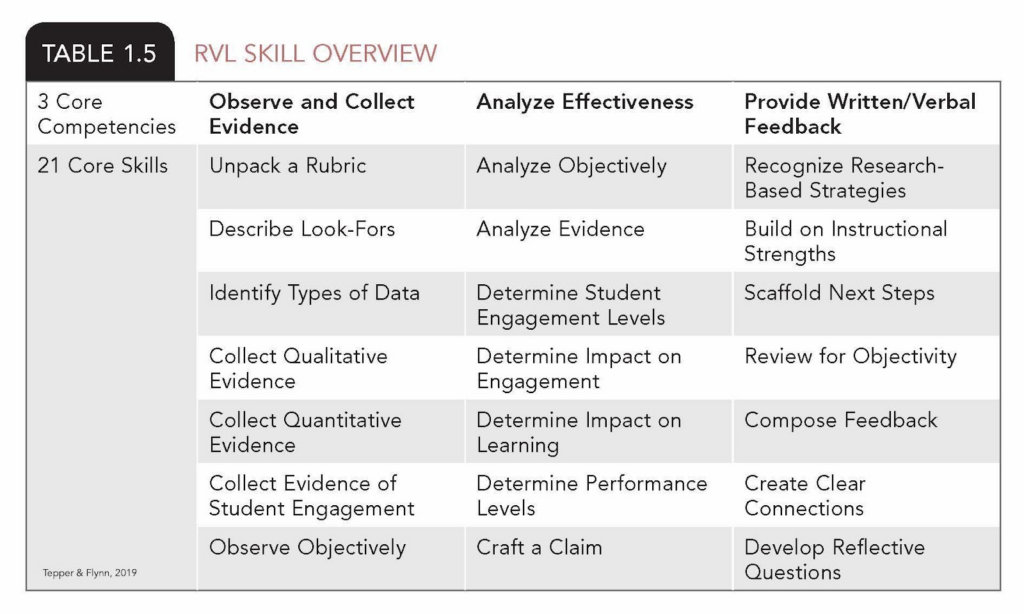 Since the publication of our first book in 2019, Feedback to Feed Forward, we have promoted the importance of observer training, outlining 3 core competencies and 21 core skills that ensure highly effective feedback from any observation. Over the past decade we have trained 1000s of observers, supporting increased collective efficacy in schools through feedback that feeds forward. Leveraging our standards and more advanced observation strategies from our second book, Learner-Focused Feedback, we have supported state departments of education, districts, and schools with training designs that support observer capacity for all members of the school community. The result is that these districts report changes to their culture and climate and supportive teacher perceptions of feedback. (Check out our online coursework.)
"When observers recognize the value and role of purposeful evidence collection and develop the necessary related strategies and skill sets, they understand how feedback to a teacher will result in more than just a regurgitated script (from the scripting method) or a summary (from the limited notetaking/interaction methods)" (Tepper and Flynn, 2019).
We Double-Dog Dare Ya
These shifts of course require more than mere policy changes to have an impact. However, with each in mind, we can formulate structures and systems, strategies, and schedules in schools that support a focus on building formative feedback cycles for teachers and school leaders. It is important to remember that no single element of evaluation systems or practice is to blame for the limited impact we have witnessed over the past 12 years. Therefore, there is no single point of remedy. Instead, taking bold steps to build observer capacity, develop ownership through authentic cycles of learning, collaborate and pilot changes in low-risk environments, and increase funding, will be what drives the results we seek. These 3 core shifts are designed to address what we do know from the research and, through each, we can build cultures of learning rooted in trusting relationships that focus on the collective good of the staff and our students.
______________________________________________________________________________________________________________________________________________
Need further guidance? Contact us directly and check out our resources and new webinars on our site
Let's stay connected – Sign up for our mailing list
Twitter: Amy @ATep46 Patrick @ReVISION_Learng