I recently had the privilege of engaging in a morning of classroom visits at Pomperaug High School in Southbury, CT who has partnered with Center for 21st Century Skills at EDUCATION CONNECTION. I went on the visits to assist in the review of a 21st Century Instruction and Learning Standards Rubric designed to support and promote teacher performance and practice towards new and innovative learning environments. While I was able to meet my promise to my colleague to provide feedback on the rubric, I found myself enthralled with the student learning and tremendously impressed with the level of inquiry, critical thinking and collaboration I witnessed.
Our group, which included participants visiting from The Heritage School in New Delhi India, the Center and ReVision Learning Partnership, followed students in the Skills 21 Classrooms through two blocks. Students were engaged in their year-long Expo project which involves the development, design, authentication and presentation of an original, innovative product or idea. The culminating presentation of projects takes place on May 17, 2014 at the Innovation Expo at the Hartford Armory. I found myself entering the date immediately in my calendar as a MUST ATTEND.
Using a school within a school model, Pomperaug and the Center for 21st Century Skills have created an opportunity for authentic student learning within a digital world.
What I found most promising about the visit though was not necessarily the presence of technology or digital learning but the obvious understanding of technology as a single aspect of 21st Century learning environments. It was abundantly clear that students are expected to engage in work that requires them to think critically about potential products or services that address real world problems. They are required and create full-scale prototypes by applying what I would call a real world business model, including working on R & D teams, product design and manufacturing and various marketing work groups.
In the first half of the year students engaged in the necessary study to understand the core concepts across multiple disciplines necessary to create their product. Then, in the later half of the year they engage in development and preparation for release of their product. As an example, one group was working to develop an alternative to using salt as a primary de-icing agent on roadways (an all too familiar need this year here in snowy New England). In their Bio21 Course, these sophomores studied the use of certain byproducts of algae to produce the same effect. As an example of how thoughtful these students are, when I asked if they had thought about the potential financial impact on local towns and communities struggling this winter to maintain salt supplies, a student responded, "While the cost may not initially create savings, it could create a new market through the farming and manufacturing of the product so the economic benefit would be good in the long run." Entrepreneurship and critical thinking at its best!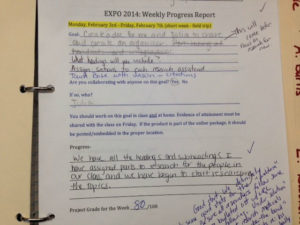 What also impressed me during the visit was the teachers' obvious understanding of pedagogy and the willingness to forfeit the pressure for immediacy often associated with content delivery to ensure student directed learning. In one freshman class, students held themselves accountable through weekly goal setting and summaries of progress to ensure they maintain high levels of production for the team.
I watched as a teacher and student engaged in a critical review of a website to ensure the validity of the source content for the project. Teachers were able to engage in a true facilitative approach asking open-ended questions that required thoughtful, meaningful responses from students. At one point, as students set themselves to product design, the teacher opened up the conversation with the most simple of questions – "how are you going to do this?" Within minutes, the six students on the core design team had multiple theories proposed to create a prototype and run the first product test. By the end of the 50 minutes, they were able to run their first test. I know some companies who would kill to have their employees working with such effectiveness. I cannot wait to see these products presented at this year's Expo.
I want to say thank you again to all the folks at Pomperaug High School and from the Center for 21st Century Skills at EDUCATION CONNECTION for inviting me to participate. I can truly say, they are an excellent model for authentic learning in our nation's 21st Century Classrooms.